Kassandra's Journey in Peru
April 27, 2022 | Kyle Krober
Kassandra arriving at the hospital!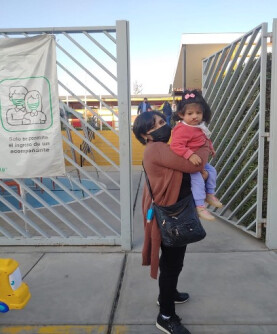 New Hope has been a global partner of Kingsway for 2 years now. They exist to serve orphaned, abandoned, and at-risk children of Peru; to demonstrate the love of Jesus, and provide spiritual, emotional, and physical care.
We've had the joy and privilege of sending around 30 people from Kingsway to work alongside New Hope. They do incredible work ministering to kids who have experienced things nobody should have to endure. Below is just one very recent story that highlights the depth of care offered at New Hope.
For a bit of backstory, Kassandra was running out of options quickly for a safe place that would take her in and care for her immediate health and medical needs. She was dangerously close to not surviving when New Hope welcomed Kassandra.
After many months of waiting, Kassandra's first surgery to begin repairing her cleft palate has been scheduled for today, April 20th. It's hard to believe this first operation is truly happening, and at the same time, we're still praying that the surgery will go forward as planned after many unexpected delays.
We have been waiting and praying for so long and we are all eager for this to finally be underway, and also nervous to begin this stage of her care. It is such a comfort to know that the Lord is not nervous or anxious about this next step; He is with her in every moment of this.
When Kassandra came to us last July after so many doors had been closed to her because of her complicated health needs, we were compelled to take her in because we know that she is His. It is our privilege to be in a position to love her and care for her and to watch her blossom as she has over these past 9 months.
This will be the first of many operations needed to repair Kassandra's cleft palate. There are many unknowns on the road ahead for her, but we are grateful to have arrived at this major milestone in her care.
Join us in praying today…
For peace for Kassandra
For a smooth recovery from surgery
For wisdom for all involved in every element of her care
We are so grateful for your prayers and partnership in caring for Kassandra and the many other children at New Hope. Thank you for praying with us!