2022 Elder Candidates
October 10, 2021
Meet our Elder Candidates
In the last quarter, the members of Kingsway Christian Church have the opportunity to affirm the selected Elder Candidates for the upcoming year. These men have been through a review and vetting process as laid out in our By-Laws and are being presented to the congregation for the upcoming vote on Sunday, November 7 during both 9:00 AM and 11:00 AM services. Elders are a part of the church leadership, and together with the Executive Team, and are responsible for the governance of Kingsway Christian Church. The men below would join our existing Elders.
Shawn Alspaugh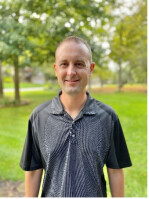 I have been attending Kingsway for over 10 years. My lovely wife Lauren and I moved to the area due to our jobs and immediately looked for a church home where we could make connections and develop deeper relationships with other Christians. Kingsway quickly became home for us as we found a life group with whom to share life with and help us not feel so alone in a big church. I have served in various capacities, from leading life groups to playing on the worship team.
I grew up in the church, accepting Jesus into my heart during second-grade Vacation Bible School. I was a rule follower who was good at "checking off the boxes" of a good Christian, but I knew something personal was missing. God brought various people into my life to show me I can go deeper with God, and my high school and college years involved me searching after a truly personal relationship with God, to which He has continued to develop over the years. I have been active in the Church everywhere I've lived, serving as a small group leader, on worship teams, and on prayer teams.
I earned a BS in mathematics education from Taylor University in 2002, and a MA in mathematics from Indiana University in 2004. After graduate school, I started teaching high school math and coaching basketball and golf at Sullivan High School, where I met my wife Lauren. We have been married for 12 years, live in Clayton, and have three children—Heidi (9), Elias (6), and Beckett (3). I have taught high school mathematics for 16 years and am currently in my fifth year as a math teacher at The Cascade High School.
Oggy Brewer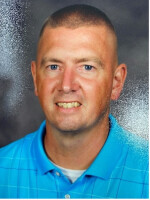 My wife Beth and I have been married for 19 years. We have 4 kiddos: Luke (Sophomore – 16 years old), Olivia (8th Grade – 14 years old), Mallory (6th Grade – 11 years old), and Kellen (2nd Grade – 8 years old). We have been committed to serving the Lord and being ambassadors for Christ in living out our faith in all aspects of our life. I have been teaching High School Biology and coaching Basketball (currently at Mooresville High School) for the last 20 years. Beth is a Labor & Delivery Nurse & Lactation Consultant at Hendricks County Hospital.
We have been attending Kingsway for the last 2 years. Before coming to Kingsway, we were a part of Plainfield Christian Church and were a big part of the Church Plant started by PCC called Reunion Church. After eight years, Reunion Church had to close its doors. We loved the people and learned a lot from serving in our time at Reunion. We are thankful to now be a part of Kingsway.
I enjoy being involved in our kids activities. I love cheering on the state of Indiana – IU/Purdue/Butler/Hanover/ Colts/ Pacers! My favorite sport is Basketball but love watching most sports. I also love hanging out with my wife and family.
Travis Popp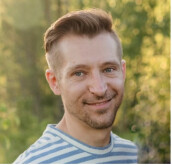 I was born and raised in Hendricks County. Currently, I live in Brownsburg, Indiana, and work in facilities and transportation at Bosma Enterprises, a not-for-profit organization that provides adult Hoosiers who have lost their eyesight with rehabilitation services and job opportunities. My wife, Megan, and I have two daughters, Tinley (4) and Tali (1). I enjoy spending time with my family, playing games with friends, camping, and reading.
I was blessed to be raised in a Christian home and from an early age had a good understanding of what it meant to be a Christian. After a long and thoughtful day in the second grade, I was led to Salvation by my parents. Since that day, I have strived to grow in my walk with Christ.
I have been a member of Kingsway for seven years. During this time I have been involved in men's groups, leading a life group, and serving on the Connect Team.
Bobby Williams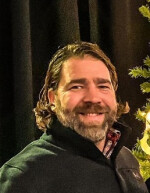 Upon graduating from Plainfield High School in 1993, I attended Johnson Bible College before finishing my undergraduate work at IUPUI in 1997. From 1997-2000, I taught Senior English (literature and composition) at Covenant Christian High School before being called into the ministry of Public Education at Plainfield Community School Corporation (2000-2015), where I also coached wrestling, track, and varsity football. During my time in education, I obtained a Masters of Arts in Education from Olivet Nazarene University. In 2015, I decided to leave education to focus on my businesses (BGW Construction and Legacy Motorsports) and dedicate more time to my family.
My wife, Karen, and I celebrated our 25th wedding anniversary this past summer. Together, we have three children (Myka, KayDee, and Robbie). We also helped raise our niece, Maci, who we affectionately refer to as our third daughter.
Karen and I have attended Kingsway since our childhood. Throughout our marriage we have been volunteer leaders with the youth group, helped in childcare, taught Sunday school classes, and most recently we were leaders and co-leaders of a life group until 2021. In 2019, I joined a small group from Kingsway on a missions trip to Northern Ireland and hope to lead another group when the Covid restrictions are lifted. I am a member of Truth at Work, a faith-based Marketplace Ministry Leadership group that meets monthly and I am very active in serving our local community, most recently teaching a woodworking class for disadvantaged youth associated with the Plainfield Youth Assistance Program.
A lifelong Christian, I have a deep passion to lead people - lifting them up and encouraging them to find their unique purpose in this life. None of us are perfect, which means all of us have a redemption story worth exploring that gives glory to Him who designed us.
If you have any questions, please send us an email here.