2023 Elder Candidate
November 6, 2022
Kingsway Elders
Every year, we hold a congregational vote to affirm Elder Candidates for the new year. All candidates for the role of Elder will be presented to the church members after an extensive reviewal process with the existing Elder Board. Each member of Kingsway is eligible to participate in this annual meeting and is encouraged to review the information on the Elder candidate(s).
What is the role of an Elder at Kingsway Christian Church? Elders provide oversight in the operation and management of the church. This includes governance of the church, spiritual oversight, and shepherding of the church body.
On December 4, 2022, we will hold a congregational meeting to affirm Brian Gossett as an Elder for Kingsway Christian Church effective January 1, 2023. During either service (9:00 AM or 11:00 AM), members will have the opportunity to cast their vote at Kingsway Christian Church. If you have any questions about the process or the candidate, please email
Meet our 2023 Elder Candidate - Brian Gossett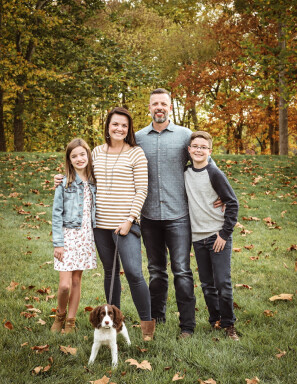 I have been married to my wife, Kelsey, for 16 years. We have two children, Abram (13) and Addilyn (12). We have an English Springer Spaniel named Millie and have been residents of Avon for the past 17 years. I enjoy playing golf and being outdoors. I love many different types/genres of music. If I can find some spare time, I enjoy reading.

Born and raised in Terre Haute, IN, with my two brothers that I still have a very close relationship. I have always had a heart for giving and helping those in need which led me to my career. I graduated from Indiana University with a Bachelor of Science in Kinesiology. During my freshman year, I joined the Indiana Air National Guard. After graduating with my undergraduate degree, I was deployed with the Air Force to Iraq in support of the US Army 1st Infantry Division. Shortly after returning from Iraq in late 2004, I began graduate school. I obtained my doctoral degree in Physical Therapy from IUPUI in 2008. I have been a physical therapist for 14 years and currently work at the Indianapolis VA Medical Center as the Chief of Physical Therapy.
My faith in Christ started at a very young age. I grew up in the Catholic Church. Shortly after getting married in 2006, Kelsey and I joined a small church plant in Brownsburg. This is where I began a personal relationship with Christ. Over the past 16 years, I have had multiple roles within the church including children's ministry, men's ministry, connection teams, and leading life groups.
We have been attending Kingsway since 2017 and have been members since 2018. God continues to meet me where I am and uses me for His glory because of His love. I am blessed to be able to share my story and grateful to be part of the body of Christ at Kingsway.
Again, if you have any questions about the process or the candidate, please email