January Reflection
February 17, 2020
Do you ever stop and look back over a month to see what happened, what you did well and perhaps what you could do better? We do that each month as a church to evaluate our effectiveness with changes or updates that have been made but also to get a sense of what the "numbers" tell us in certain areas. The past month has been a busy one around here as we kicked off the year with our 2020 Vision Sermon Series, a powerful men's retreat, and have been navigating some staff transitions. Our Director of Ministries, Brett Cadwell, and HR Manager, Lauren Schiesser, share some of these updates in this video to our CORE leaders earlier this month.
When we reviewed our average weekly attendance year-over-year, we were pleased to see an increase this January over the previous year. What we like about this view is that you really get a visual of our ebb and flow over the twelve months. Additionally, we like to look at our average weekly giving, comparing it to our weekly goal and the previous year. Although we were shy of our goal last month, we did see a jump in the average weekly giving. You can see both of these graphs below.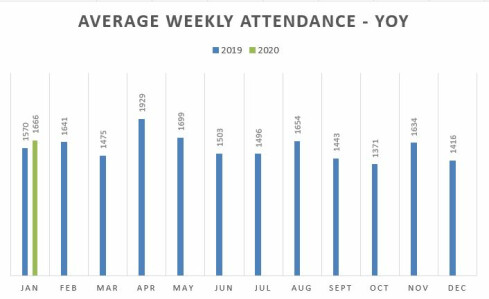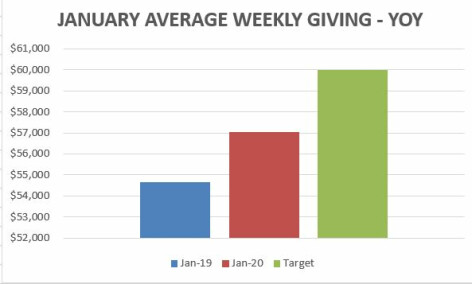 Lastly, we wanted to celebrate our Men's Retreat with you! We had 125 men attend this year, last year there were 80 who registered. This is just awesome! God is stirring in so many hearts all around us. When asked for some of the feedback, our Men's Ministry shared some of these quotes:
"I thought I was alone. But now I know I'm not alone." So many men shared this feeling, but now realize they are not alone in their struggles and can come together to support each other.
"I am looking for ways to share Jesus with those who don't know Him yet." This is coming from the third message the guys heard from Luke 10:2.
Finally, there are nine men meeting in mid-February to see what God may want from the Kingsway Men's Ministry before next year's retreat. Stay tuned for details.
We love sharing these updates with you! If you ever have any questions or want clarity or maybe you want to get involved, please send us an email here!
God bless!