Using a Great Tool!
September 29, 2021
Hello! So glad you're here. You may be wondering, what new tool are we talking about? No, it's not a hammer or wrench. It's not a kitchen gadget either. It is actually our app. Yes, that's right. Our Kingsway Christian Church app has been redesigned with you in mind. Not only is it the best place to go to stay "in the know", but it will become a communication tool we can all use throughout the week to stay connected.
But, before we can get there, we want to take a few minutes to all get on the same page with this amazing tool. We put together some pictures to help you quickly connect and begin using the app in the way it has been designed. Let's begin.
First, the basics. If you don't have the latest Kingsway app, head over to your app store and download the Kingsway Christian Church app. The current version should have a dark grey background and a white "K" mark. once downloaded, you'll be prompted to set up an account.
Now, if you already have it downloaded, you will then move to the sign-in part.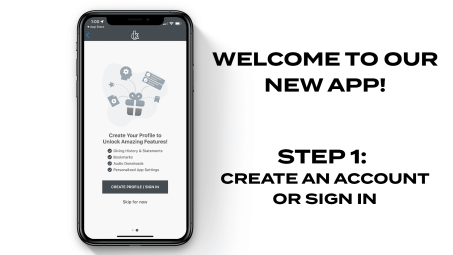 Next, use the screenshots to help you navigate to your profile in the app.
You'll see that the app is very useful to track your giving and even save messages!
We will be using the ability to send notifications and other communication through the app. This will be useful for church news or the latest Student or Kids Ministry event. Please edit your settings so you will only be notified about the areas you want to hear about.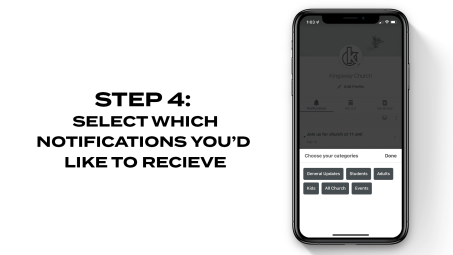 And that is it! You have successfully personalized the app for YOU! We hope you are excited about the potential for staying connected through our app. We sure are and can't wait to get started with these new options in the near future.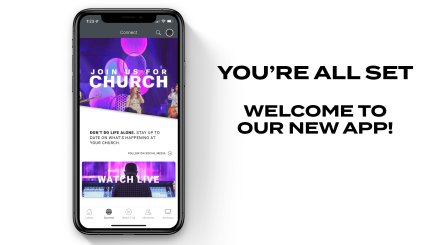 If you have any questions, please let us know. Send an email here.
Blessings,
Communications Team