Debbie St. Martin
October 12, 2022 | Andy Lynch
Some people just bring a smile to your face.
No matter how your day is going, when they cross your path, they bring life and light. That is certainly the case with Debbie St. Martin.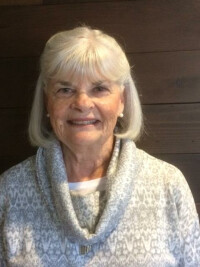 A retired school teacher, Debbie has been at Kingsway for 6 years now, and the light of Jesus pours out of her wherever she goes.
One of her many volunteer roles is filling in for Emilee Mally as the Campus Host, who sits at the front desk during the week to welcome people into the church. Emilee shared about one interaction they had. "Debbie came to volunteer at church for one thing or another. I remember it being a particularly busy season for her. I asked her how she was and she stopped and gave me this beautiful smile and told me about how she had the best quiet time with God that morning. It was so encouraging to me to hear about. She has been such a blessing to me, to remember through even the busy times, spending time with God is the most important."
That heart for God was apparent when Debbie moved to Indiana 6 years ago. She explains, "I moved back to Indiana from Denver, CO to help my sister with the care of our mom. My sister was attending Kingsway so what better place to begin my "church home" search. From that first Sunday, I felt God's nudge to make Kingsway my new church home…so a "new chapter" in my journey of serving/connecting was about to begin, but not for about two and a half years…because caring for our mom came first."
Once Debbie's mom went home to be with the Lord, she went through Starting Point and God began giving her opportunities to serve at Kingsway. She's been a part of the Prayer Ministry, the Care ministry, the Connect Team, as well as helping be the Campus Host during the week.
"Debbie has such a heart for everyone she meets," Emilee Mally continued. "She is always extending grace and truth to others and prayerfully considering how God can use her. She has been such a blessing to me and countless others."
Debbie loves God and loves people and it is so evident.
"I have been blessed every Sunday I serve with the Connect Team, but there was one Sunday where God poured His blessing abundantly over me. It was the Sunday in August when Matt invited whomever was ready to surrender his or her life to Jesus and be baptized. As I was standing to the side a young man began walking towards me with his mother. All I saw was his face…especially his eyes…and I knew he had been touched by Jesus. Immediately, tears of joy welled up in my eyes, and I felt like his proud "spiritual mother"… connected through the love of Christ Jesus! He accepted Jesus as his Lord and Savior and was baptized! All the way home, I was raising a Hallelujah for this precious young man's decision to follow Jesus!
In my life's journey, I continue to see His faithfulness through my willingness to serve/connect wherever He leads. And that is all that is needed for anyone…seek His direction and obey wherever He leads. Oh…and a smile that reflects His Light and Love!"