December Reflection
January 17, 2020
Each month, we take a look back to review all that happened and gauge our trajectory moving forward. In December, we celebrated the birth of Christ with nearly 2300 people! Our Christmas at Kingsway was a day filled with joy, hope, and love for so many. Here's a brief highlight video of that day.
In addition, let's take a look at how our giving and our attendance reflects where we are, closing out what has been a challenging yet insightful 2019.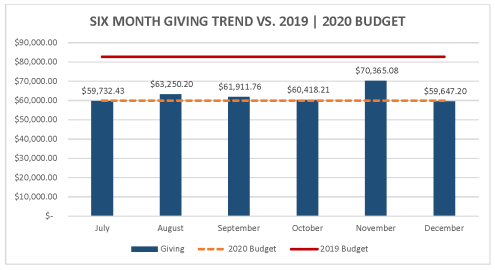 Financially, the last six months have been a journey! A lot of work has been put into updating our operating budget to right-size with our church size and giving. Above, you see our average weekly giving over the last six months against both our original 2019 budget and the revised operating budget going into 2020 of $60,000.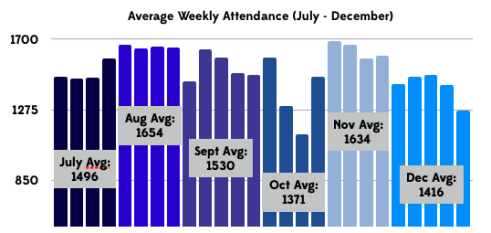 Above, you see the snapshot of our attendance over the past six months as well. You really get a feel for the fluctuation we experience from five-week months to school breaks to holiday weeks. Each bar represents the weekly total attendance on Sunday; each month's weekly average is highlighted in the gray box.
If you have questions about anything you have read here or about Kingsway in general, we welcome your email! Click here to send us one.